A judge has called off money laundering investigations into the wife of Peru's President Ollanta Humala, clearing yet another obstacle to the first lady's rise in national politics.
On June 9, Peruvian Judge Maria Niño Palomino accepted a writ of habeas corpus submitted by Nadine Heredia -- wife of President Ollanta Humala -- to suspend an investigation into deposits totaling over $216,000 made into her bank accounts between 2005 and 2009, reported El Comercio (see table below, produced by El Comercio).
Palomino ruled that the case against Heredia had been resolved in 2010, and that the current investigation violated the principle of "double jeopardy."
SEE ALSO: Peru News and Profiles
In May, reports began circulating regarding money deposits Heredia's mother, Antonia Alarcon, and close childhood friend, Rocio Calderon Vinatea, received in 2005 from Venezuelan company Inversiones Kaysamak C.A.
According to El Comercio, Kaysamak C.A. transferred a total of $87,451 to the two women's bank accounts over the course of the year. Some of this money eventually found its way into Heredia's bank accounts and was used to help finance Humala's unsuccessful 2006 presidential campaign.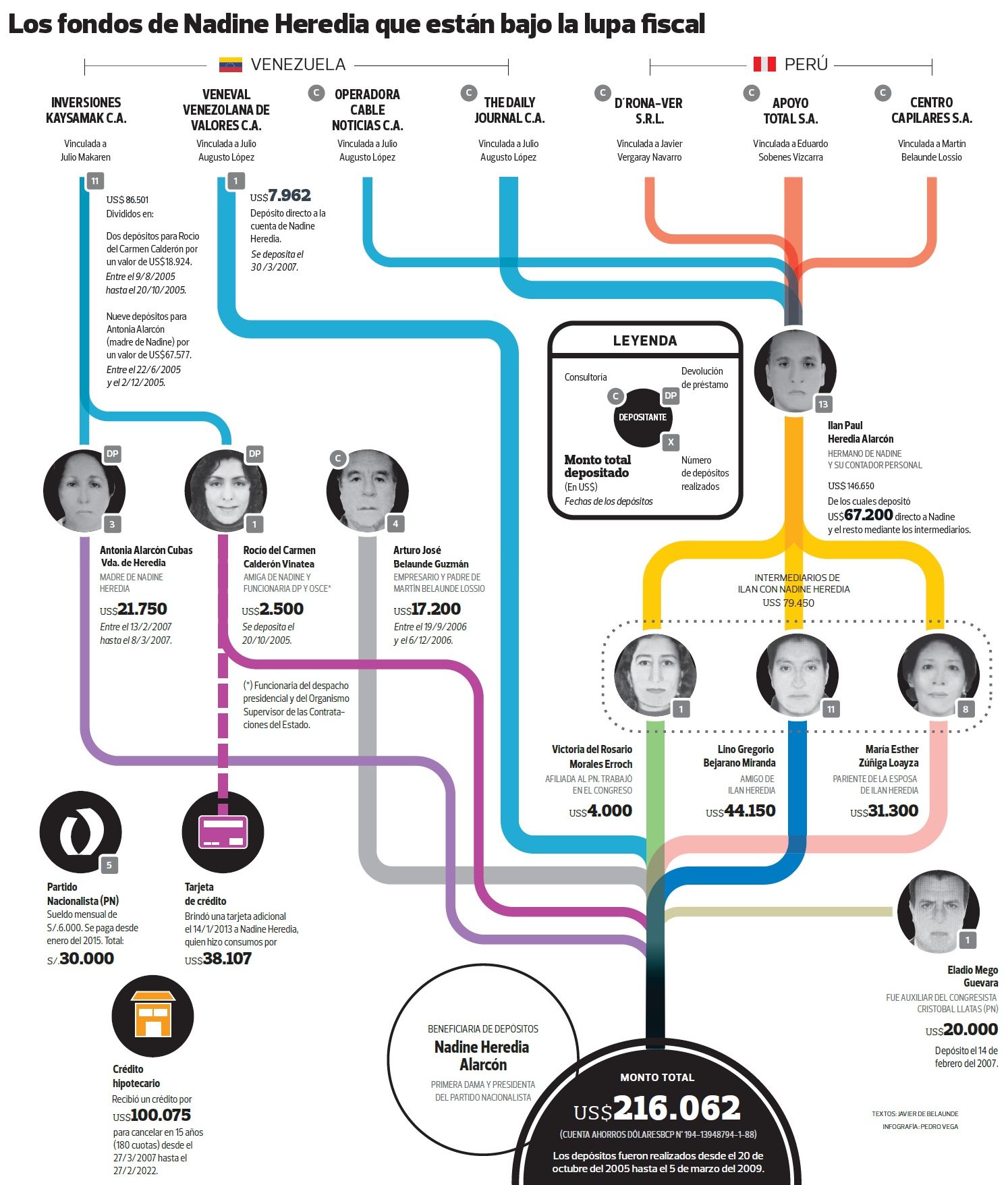 Heredia's spending of some $38,000 on luxury items, including jewelry and dresses, using a credit card given to her by Rocio Calderon, has also come under scrutiny. In an interview with La Republica, Heredia said that "about 70 percent" of the purchases were for Calderon, who gave the credit card to Heredia so she could "take care of some purchases for her [Calderon]" during a trip to Europe.
Heredia's lawyer, Eduardo Roy Gates, defended the purchases and the 2005 transfers to Alarcon and Calderon from the Venezuelan company, saying the money was not for Heredia but for the formation of the couple's Nationalist Party (PNP) in 2005 (Humala eventually lost the 2006 elections to Alan Garcia).
President Humala expressed his indignation at the investigations, calling them "ridiculous" and claiming his wife was the target of "persecution." However, Peruvian congressman Yonhy Lescano -- who submitted a motion on June 2 to form a special commission to investigate Heredia and her close associates -- deplored the judge's decision, saying Heredia had joined Peru's "impunity club."
InSight Crime Analysis
Peru's first lady has been dogged by allegations of suspicious financial activity and money laundering.
Indeed, this is the third time some of the same money laundering accusations against Heredia have been investigated, with Ricardo Rojas reopening investigations in January 2015 into a series of deposits made into her bank accounts. Portions of this money have been linked to Humala's former campaign advisor Martin Belaunde Lossio. Belaunde was recently captured and extradited back to Peru from Bolivia, where he had been hiding after fleeing charges of money laundering and conspiracy.
SEE ALSO: Coverage of Elites and Organized Crime
Nonetheless, repeated attempts at prosecuting Heredia on the same charges could suggest a personal attack by her political rivals -- there are many who would benefit from sabotaging her burgeoning political career. Heredia is popular among ordinary Peruvians, and is expected to run for Congress in the 2016 elections. And, at only 39 years old, she is seen as a strong future candidate for president (though, as the wife of the sitting president, she is ineligible to run in 2016).
However, the details of the money-laundering allegations against Heredia -- especially regarding the opaque way in which money was transferred between bank accounts -- do raise suspicions about the nature of her activities.
These suspicions are fed by Peru's history of high-level politicians and officials being embroiled in corruption scandals and criminal behavior. For instance, in 2014 over 100 political candidates for regional and municipal offices were linked to drug trafficking cases. Former President Alejandro Toledo also faced money laundering and criminal conspiracy allegations. In 2014, President Humala himself was implicated in a campaign financing scandal, being accused of accepting money from Peru's illicit mining sector. He was also accused of links to drug money in 2011.
Yet, despite regular evidence of ties between politicians and organized crime, such links often go uninvestigated or unprosecuted by Peru's weak judicial system, resulting in a culture of impunity in Peru. Given the judge's decision regarding Heredia, however, it seems it will remain a mystery whether or not she has joined the "impunity club."